Doramus' West Highland Terriers

Contact info: Pam @ (208) 697-7652 or Jim @ (208) 697-3259 or Email

$400 deposit required when approved for a puppy.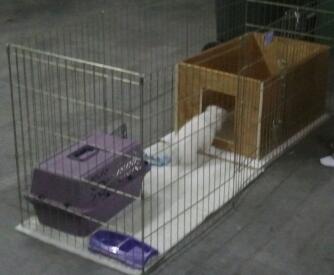 Indoor or garage kennel

The only negative about getting a puppy during the winter months is the limits that the weather outside creates for potty training and kenneling when you are gone to work or during nighttime. Creating a kennel with two rooms allows the puppy the freedom to stay for longer periods of time. The puppy can go into the "potty room" to urinate on the puppy pad whenever the need arises. This works great, since the puppies have been trained to use the "potty room" since birth. We have built the box so that the puppy pad is completely covered. The edges are concealed under an added ledge around the bottom of the box so the puppy won't chew on the pad when he gets bored. We ordered the large puppy pads that are 24" X 36". The box is constructed to be 20" X 30" outside to outside. It has a lip around the bottom of the box that adds 3" in the front and 1 1/2" on each side to cover the blue part of the pad not covered by the box. To change the soiled puppy pad, simply lift the box up and lay down a clean puppy pad (no taping the pad to the floor anymore so that it won't be chewed). The only other needs in the main room are a carrier to sleep in, a fleece dog pad or blanket to play on, and a small area for food and water. The portable wire exercise cage around the outside can be purchased from D & B for about $70-$80. We use our wire cage during the winter in the dining room or heated garage and in summer when we go camping.
This indoor kennel uses the portable wire exercise cage from D&B mentioned above. The "potty room" consists of 2 potty pads taped together making double the space for a large number of puppies. You must tape the pad across the whole door opening or the puppies will find the edge and start tearing the pad up.
The divider is just a cut board with a door notched out of it for the puppies to go back and forth from the food area to the urination area. It is held in place by clamps. This works ok. The tape sticks to the floor and leaves a sticky resin on the floor when pulled up. The room divider is not very sturdy, but it works for small puppies. I much prefer the box above where no tape is needed to keep the potty pads in place.